Top 10 Hospital Chains in India
‍There are a number of hospitals in India, but what truly sets the best apart is their ability to provide holistic treatment and facilities. While some are known for their state-of-the-art infrastructure, others are well known for their specialization in certain fields. In this article, we take a closer look at the top 10 hospital chains in India. We all know that hospitals are places where people go when they're sick or injured. But did you know that some hospitals are so big that they have their own departments? That's right! Hospitals can be big enough to have sections referred to as departments. Hospitals can range from small, community healthcare centers to massive teaching hospitals affiliated with universities and colleges, serving as a primary affiliate site housing thousands of patients under one roof every day.
Apollo Hospitals
Apollo Hospitals is one of the most renowned hospital chains in India. With state-of-the-art technology and world-class facilities, it has been able to attract millions of patients from across the globe.
With a presence in 21 countries, Apollo Hospitals has more than 30 hospitals under its umbrella offering services such as super specialties, tertiary care, secondary care and primary care.
The Apollo Hospital chain was founded in 1982 by Dr. Prathap Reddy with a single hospital in Chennai. Its growth has been phenomenal considering that now it has grown into a multi-hospital conglomerate operating hospitals across 21 locations. Read on to know more about the history, services, and facilities offered at Apollo Hospitals.
Why Choose Apollo Healthcare?
Established by Dr Prathap C Reddy in 1983, Apollo Healthcare has a robust presence across the healthcare ecosystem. From routine wellness & preventive health care to innovative life-saving treatments and diagnostic services, Apollo Hospitals has touched more than 120 million lives from over 120 countries, offering the best clinical outcomes.
LOCATIONS
Hospitals In India
Apollo's presence encompasses over 10,000 beds across 73 hospitals, 4500+ pharmacies, over 300 clinics, 1100 diagnostic centres and 200 Telemedicine units across 17 countries.
Fortis Healthcare: Top Hospitals in India for Health Care
Fortis Healthcare Limited – an IHH Healthcare Berhad Company – is a leading integrated healthcare services provider in India. It is one of the largest healthcare organisations in the country with 36 healthcare facilities (including projects under development), 4000 operational beds and over 400 diagnostics centres (including JVs). Fortis is present in India, United Arab Emirates (UAE) & Sri Lanka. The Company is listed on the BSE Ltd and National Stock Exchange (NSE) of India. It draws strength from its partnership with global major and parent company, IHH, to build upon its culture of world-class patient care and superlative clinical excellence. Fortis employs 23,000 people (including SRL) who share its vision of becoming the world's most trusted healthcare network. Fortis offers a full spectrum of integrated healthcare services ranging from clinics to quaternary care facilities and a wide range of ancillary services.
AWARDS & ACCOLADES
Economic Times Healthworld Hospital Awards'20
Fortis Group won four awards in various categories at the Economic Times Healthworld Hospital Awards'20.
Fortis won the 'Best Hospital Chain' and the 'Best Hospital for Patient Care' titles nationally.
Fortis Hospital, Bannerghatta Road, Bengaluru, was named the 'Best Hospital – Urology' in its region.
Fortis Memorial Research Institute, Gurugram, was recognised as the 'Best Hospital – Oncology' in its region.
FICCI Medical Travel Value Awards 2019
Fortis Healthcare bagged 10 awards in various categories at the FICCI Medical Travel Value Awards 2019. The awards, instituted by the Federation of Indian Chambers of Commerce & Industry (FICCI), were presented at the Advantage Health Care India – 2019 Summit.
Excellence in Cardiac Sciences
Fortis Escorts, Okhla, New Delhi, was honoured with 'Award for Excellence in Cardiac Sciences' at 5th ABP Healthcare Leadership Awards.
Joint Commission International (JCI) accreditation
Fortis Hospital, Mohali and Fortis Hospital, Bannerghatta Road, Bengaluru, earned theJCI Gold Seal for the _fth consecutive time while Fortis Memorial Research Institute (FMRI), Gurugram also attained the prestigious JCI accreditation.
National Award for Excellence in Energy Management, 2019
Fortis Hospital, Mohali, was honoured with the 'The National Award for Excellence in Energy Management, 2019' instituted by the Confederation of Indian Industry (CII).
Best Hospital to Work For
Fortis Hospital & Kidney Institute (FHKI), Kolkata, was recognised as the 'Best Hospital to Work For' by the Association of Healthcare Providers – India (AHPI). This is the third consecutive year when FHKI has won the honour.
International Patient Safety Congress
Fortis Hospital, Mulund, won two awards at the 8th International Patient Safety Congress for two projects, namely, 'Infection Control Prevention – Central Line-associated loodstream Infection (CLABSI)-free Hospital' and 'Beyond Scalpels and Surgeons,'
Quality Beyond Accreditation
Fortis Hospital, Anandapur, Kolkata, received the AHPI Award 2019 for 'Quality Beyond Accreditation.'
Rashtriya Prernadoot Award
Fortis CSR Foundation was honoured with the prestigious 'Rashtriya Prernadoot Award' for social work. The award was presented by Shri Thawar Chand Gehlot, Hon'ble Minister of Social Justice and Empowerment, Govt. of India.
Best Brand in Diagnostics
SRL won the 'Best Brand in Diagnostic Services in Pathology and Radiology' recognition at the Economic Times Best Brands Awards-2019.
Outstanding Work in Medical Diagnostics
SRL was felicitated at the 8th Global Economic Summit in Mumbai for its outstanding work in the field of medical diagnostics.
Best Use of Celebrity/Influencer
At the E4M Healthcare Marcom Awards, SRL was honoured in the "Best use of celebrity/ influencer" category for its campaign #DoctorKnowsBest.
Most Trusted Diagnostic Centre of the Year
SRL was named the Most Trusted Diagnostic Centre of the Year at the Iconic Health Summit& Awards 2019 by Togallant Media.
Narayana Health
Narayana Health is headquartered in Bengaluru, India, and operates a network of hospitals across the country, with a particularly strong presence in the southern state of Karnataka and eastern India, as well as an emerging presence in northern, western and central India. Our first facility was established in Bengaluru with approximately 225 operational beds and we have since grown to 21 Hospitals + 1 Cayman Islands and 6 heart centres, 19 primary care facilities across India and an international hospital in the Cayman Islands. The group now features over 5,859 operational beds through a combination of greenfield projects and acquisitions. We believe that the "Narayana Health" brand is strongly associated with our mission to deliver high-quality, affordable healthcare services to the broader population by leveraging our economies of scale, skilled doctors, and an efficient business model.
In aggregate, our centres provide advanced levels of care in over 30 specialties, including Cardiology and Cardiac Surgery, Cancer Care, Neurology and Neurosurgery, Orthopaedics, Nephrology and Urology, and Gastroenterology.
Accreditation
Narayana Health adheres to national and international standards for healthcare; 19 hospitals are NABH accredited and 2 are JCI accredited (Narayana Institute of Cardiac Sciences, Bangalore- India and Health City Cayman Islands)
Our Presence
21 Hospitals + 1 Cayman Islands and 6 heart centres. Over 5,859 operational beds. 19 primary care facilities.
Our Mission
Our mission is to deliver high quality, affordable healthcare services to the broader population in India. Our core values are represented by the acronym "iCare", which encompasses innovation and efficiency, Compassionate care, Accountability, Respect for all, and Excellence as a culture. At the same time, we seek to generate a strong financial performance and deliver long-term value to our shareholders through the execution of our business strategy.
Aster DM Healthcare
Aster DM Healthcare Limited is one of the largest private healthcare service providers operating in multiple GCC states and is an emerging healthcare player in India. With an inherent emphasis on clinical excellence and an effort to provide unparalleled care to our patients, we are one of the few entities in the world with a strong presence across primary, secondary, tertiary, and quaternary healthcare through our hospitals, clinics, and pharmacies. We have over 19,800+ dedicated employees across the geographies, delivering a simple yet strong promise to our different stakeholders: "We'll treat you well." We reach out to all economic segments in the GCC states through our differentiated healthcare services across the "Aster", "Medcare" and "Access" brands.
Aster DM Healthcare Limited is a publicly-traded multinational conglomerate healthcare company founded by Azad Moopen in 1987. The company has its corporate headquarters in Dubai, UAE, and is registered in Bangalore, India. Aster DM Healthcare currently operates hospitals, medical centres, diagnostic centres, laboratories and pharmacies in six GCC countries and India. The corporation works in a variety of economic sectors through its brands Aster, Medcare, and Access.[2][3]
Aster Hospitals is one of the topmost healthcare providers in India. Our hospitals are renowned for their medical infrastructure and expertise as we have some of the finest doctors in the country, supported by ultra-modern technologies, research-based care in a warm & comforting environment. Our trusted doctors and a team of specialists work closely together to provide the best of healthcare.
As a leader in the healthcare industry, our hospitals are accredited by the National Accreditation Board for Hospitals & Healthcare (NABH), and our high-tech laboratory services are NABL endorsed. Two of our hospitals Aster Medcity, Cochin & Aster Ramesh, Guntur are accredited with the JCI (Joint Commission International), considered the gold standard in global health care.
Our 14 hospitals are present all across Karnataka, Kerala, Maharashtra, Telangana & Andhra Pradesh bring you world-class care and treatment. 
We endeavour to make Aster a world-class patient-centric hospital where we provide our patients with high-quality care and treatment while delivering the best possible medical results. 
Our Prescence
Manipal Hospitals
Manipal Hospitals is one of India's foremost multi-speciality healthcare providers catering to both Indian and international patients. We are a part of the Manipal Education and Medical Group (MEMG), a leader in the areas of education and healthcare. With a group of 27 hospitals spread in 15 cities, we are the second largest hospital chain in India. To manage such a large network of hospitals, we have different entities that ensure proper functioning, smooth operations and overall patient satisfaction.
Our list of entities includes:
(i) Manipal Health Enterprises Private Limited
(ii) Manipal Hospitals (Jaipur) Private Limited
(iii) Manipal Hospitals (Dwarka) Private Limited
(iv) Manipal Hospitals Private Limited
(v) Manipal Hospitals (Bengaluru) Private Limited
With more than 7500 operational beds, our commitment to the overall well-being of an individual is at the core of everything we do. Through our network of hospitals and experienced team of medical professionals, we provide quality and affordable healthcare to everyone.
Our Core Values
At Manipal Hospitals, we are devoted to clinical excellence, patient-centricity, and ethical practices. Our commitment to clinical excellence is palpable in the high calibre of our team of medical practitioners. Our nursing staff and paramedical professionals are highly competent and provide great support to our clinical team Our healthcare services are aligned with our patients' needs. Creating a compassionate and supportive environment for patients and their caregivers is of utmost importance to us. Our patient-first approach has earned us the goodwill of patients not just from within India, but also from across the world including the Middle East, Africa, and South-East Asia. We attach the highest importance to ethical practices which is evident in our professional conduct, honesty, trust, and confidentiality.
Our Expertise
We offer an integrated range of healthcare services from out-patient treatment and diagnostics to advanced clinical care which also extends to personalised home-care services. We keep pace with the latest technological breakthroughs in medical science and equip our hospitals with state-of-the-art facilities on par with global standards. From the simplest to the most complex medical problems, we deliver the most cutting-edge treatment. We serve thousands of patients through our network of hospitals every day and offer quality healthcare to people from India and overseas. Through our association with the Manipal Foundation and other NGOs, we provide affordable healthcare services to the less privileged sections of society.
The seeds of our origin were sown as early as 1953 when the founder of the Manipal Education and Medical Group (MEMG), Dr. T.M.A. Pai, established the Kasturba Medical College in Manipal, Karnataka. Manipal Hospitals as an entity came into existence in 1991 with the launch of our 650-bed flagship hospital at Old Airport Road, Bangalore. Today, we are one of India's leading healthcare groups with over 7600 beds across 27 hospitals.
Our core values are built around the thought of patient-first and that each doctor at Manipal Hospitals is a human care expert, going above and beyond the call of duty as they live by the belief that every single life is priceless. When they embark on these journeys, stories emerge – stories of grit, determination and never giving up. Join us on a journey to discover stories that reinforce your belief in 'Life's On'.
CARE Hospitals
Overview
Founded in 1997 by a team of India's leading cardiologists, CARE Hospitals started its journey as a 100-bedded Heart Institute with a core team of 20 cardiologists, 1 operating theatre, and 1 catheterization laboratory. 25 years later, the CARE Hospitals Group is a multi-speciality healthcare provider with 16 healthcare facilities 8 cities across 6 states of India. It is the regional leader in South and Central India and is amongst the top 5 Pan-Indian hospital chains. CARE Hospitals delivers comprehensive care in over 30 specialities. Adopting a service-oriented delivery model, CARE Hospitals provides cost-effective medical care, with an uncompromising commitment to its core purpose – 'To make quality healthcare accessible at affordable costs to all'
Our Vision, Mission and Values
Vision: To be a trusted, people-centric integrated healthcare system as a model for global healthcare
Mission: To provide the best and cost-effective care, accessible to every patient through integrated clinical practice, education and research.
Values:
Transparency: Being transparent requires courage and we stand for transparency. Every aspect of our business is clear and comprehensive to the relevant stakeholder and we never compromise on the fundamentals at any cost.
Teamwork: A collaborative work ecosystem is where all the collective efficiencies are harnessed and propelled towards delivering the best possible care.
Empathy & Compassion: The ability to understand and respond to the feelings of both the patients and the employees, so that all the services are rendered in a supportive work environment with a humane touch.
Excellence: When every action aims at enhancing quality, the outcome is always excellence. Each member in our team strives with the same intensity in every action, be it healthcare or any other dimension of the organisational processes.
Education: Learning continuously to create an advanced and sustainable healthcare system that results in collective growth of both the employees and the organization.
Equity: Mutual trust based on fair and impartial consideration of all professional matters, so that it can foster positive contribution towards the institutional purpose.
Mutual trust & respect: We do not discriminate against anyone on any grounds. Respect is a traditional trait in us and we respect everyone, for we believe that trust grows respect, which forms the foundation of real success.
CARE ETHOS– (AAA+) healthcare
ACCOUNTABLE
ACCESSIBLE
AFFORDABLE
Journey of CARE Hospitals
CARE Hospitals was instituted in 1997, Started with 100 beds, 20 cardiologists the Group has now evolved as a multi-speciality health care provider with 16 health care facilities in 8 cities across 6 states with over 2700 beds.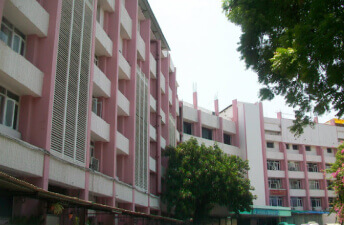 1997
CARE Hospitals, Nampally, Hyderabad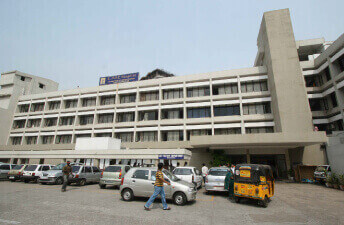 1999
CARE Hospitals, Ram Nagar, Visakhapatnam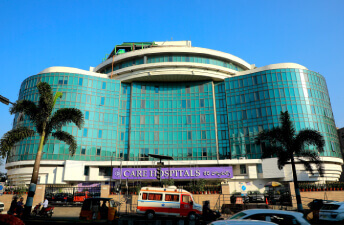 2000
CARE Hospitals, Banjara Hills, Hyderabad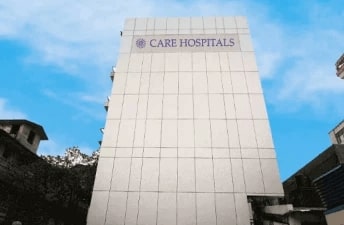 2006
Ganga CARE Hospitals, Nagpur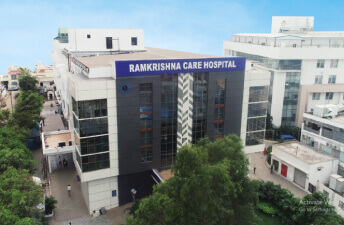 2007
Ramakrishna CARE Hospitals, Raipur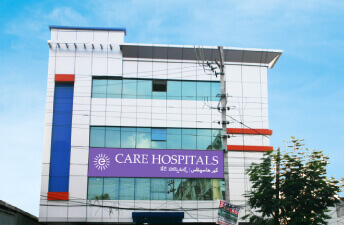 2007
Gurunanak CARE Hospitals, Musheerabad, Hyderabad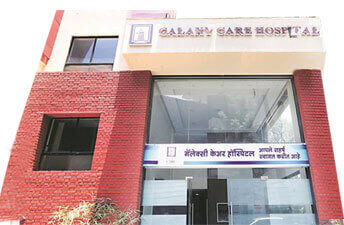 2009
Galaxy CARE Hospitals, Pune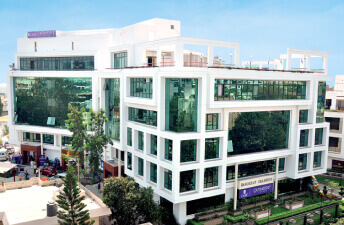 2012
CARE Hospitals Outpatient Centre, Banjara Hills, Hyderabad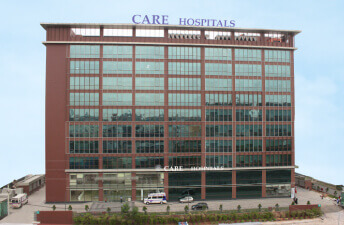 2016
CARE Hospitals, HITEC City, Hyderabad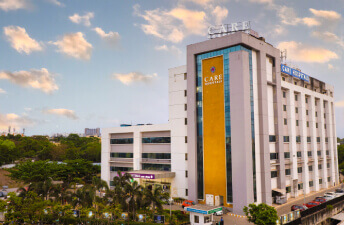 2016
CARE Hospitals, Bhubaneswar
2021
CARE Hospitals Outpatient Centre, HITEC City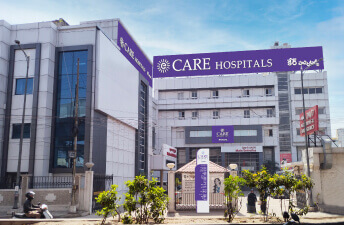 2022
CARE Hospitals, Malakpet, Hyderabad
2022
CARE CHL Hospitals, Indore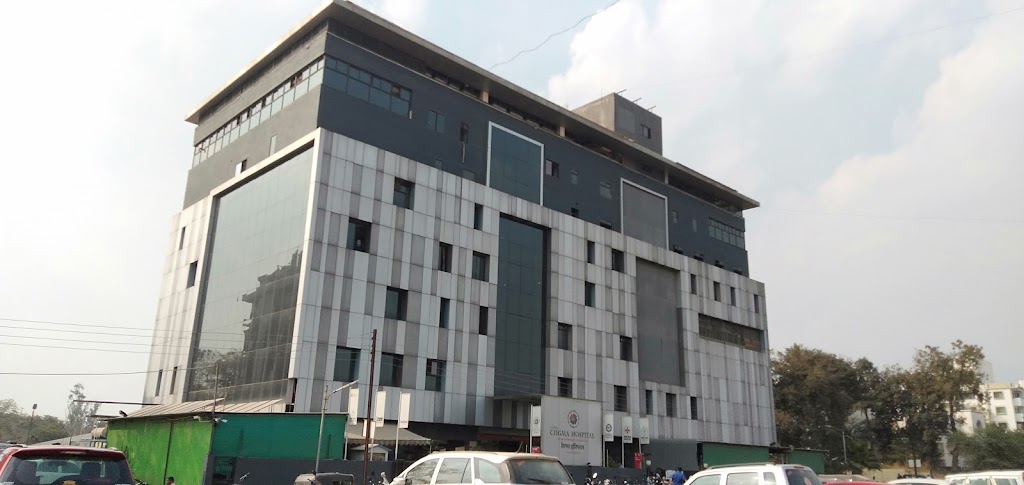 2022
United Ciigma Group of Hospital, Marathwada, Aurangabad
Our Achievements
Developed India's first indigenous Coronary Stent.
First Hospital in AP to perform Swap kidney transplant
First Hospital in India to perform Womb transplant
First Hospital in India to perform Heart Surgery on Foetus
First Hospital in Central India to start 3D Laparoscopy Surgery
First Hospital in AP to start Endovenous surgery for Varicose Veins
First Hospital to perform Hybrid repair of Thoracoabdominal aortic aneurysm in the country
First Hospital in south India to start Hybrid Salvage of Failed AV fistula.
Cochlear Implantation using local Anaesthesia (Very few people in the world do this).
First Hospital in AP that started Image-guided skull-based surgery for Pituitary tumour
1000 plus stapedotomy surgeries using skeeter drill and self-retaining ear canal retractor for conductive deafness (2nd largest study in the world which has been accepted by Cambridge university done by a single surgeon)
Gleneagles Global Hospitals
Gleneagles Global Hospitals is part of Parkway Pantai, a fully owned subsidiary of IHH Healthcare. In India, Gleneagles Global Hospitals operates a chain of multi-super specialty hospitals offering tertiary and quaternary healthcare services with over 2,000 beds and state-of the-art, world-class hospitals in Hyderabad, Chennai, Bangalore and Mumbai. A pioneer in kidney, liver, heart and lung transplants, Gleneagles Global Hospitals provides comprehensive multi-organ transplant services in the country.
Gleneagles Global Hospitals aims to strengthen and expand its leading market position as a destination for multi-organ transplant for patients from India, Middle East, Africa and South East Asia. We are committed to further our aspiration of making quality health care more accessible to all.
We are very fortunate that our existing cohort of consultants and surgeons are leaders in their fields, and looked upon as iconic figures in the medical fraternity.
LEADERS IN HEALTHCARE WORLDWIDE.
Parkway Pantai is one of Asia's largest integrated private healthcare groups operating in Singapore, Malaysia, India, China, Brunei and United Arab Emirates. For over 40 years, its Mount Elizabeth, Gleneagles, Parkway, Parkway Health and Pantai brands have established themselves as the region's best-known brands in private healthcare, synonymous with best-in-class patient experience and outcomes.
Parkway Pantai as part of IHH Healthcare, the world's second largest healthcare group by market capitalisation operates more than 10,000 licensed beds across 52 hospitals in 10 countries worldwide, offering the full spectrum of integrated healthcare services from clinics to hospitals to quaternary care and a wide range of ancillary services including medical education.
Gleneagles Global Hospitals aims to provide the best treatment, to ensure that patients receive exceptional quality care. We take pride in our systems & process that deliver the best of care based on the most advanced medical practices and state-of-the-art technology. At Gleneagles Global Hospitals, we endeavor to foster a culture that is tuned to patient safety & patient welfare at all times. We regularly upgrade our safety protocols, medical equipment and other SOPs to ensure we always remain ahead of the curve in quality patient experience.
Our commitment to quality is best encapsulated as below:
Be a Center of Excellence in Healthcare through commitment to continuous quality improvement and adopting the leading practices for the safety of the patient.
Meet and exceed International Healthcare standards through our integrated model of healthcare quality systems and evidence based medicine.
Function as a unified organization, in multiple locations, to ensure that our patients have an excellent experience access to all our facilities and services.
Build a culture of quality and safety across the organization so that all our facilities deliver highest quality care and service at all times.
The quality improvement priorities at Gleneagles Global Hospitals include:
Standardization of systems, processes, policies and procedures across all hospitals.
Adopting International Patients Safety Goals.
Implementation of Computerized Physician Order Entry and Electronic Health Records that eliminate human errors medical records and improve patient care.
Training & development programs for all employees on principles and practice of qualitative healthcare.
Health Care Global
HCG – India's Largest Provider of Cancer Care at The Forefront of The Battle Against Cancer
HCG Cancer Hospital is one of the best cancer hospitals in India. It has a chain of 24 comprehensive cancer centres, which offer cutting-edge diagnostics and world-class cancer treatments across the nation.
HCG Cancer Centre uses leading-edge technology, has knowledgeable and experienced professionals at its disposal, and its distinctive cancer treatment procedures contribute to providing our patients with timely diagnostic and clinical care assistance. We also have a large pool of cancer specialists across the network who are trained to support and care for the patients in the best way possible.
At our cancer treatment centre, our core focus lies in delivering patient-centric and value-based cancer care through the adoption of advanced technology, constant research, and innovation.
With its corporate office in Bengaluru, HCG has a pool of more than 450 experts across multiple domains.
Why HCG?
HCG, India's largest provider of cancer care, is at the forefront of the battle against cancer
Through its network of 24 comprehensive cancer centers, spread across India, HCG has brought advanced cancer care to the doorstep of millions of people.
HCG – HealthCare Global Enterprises Ltd., is a healthcare organization headquartered in Bangalore with a combined pool of 450 plus specialists across various domains.
HCG believes in and practices value-based medicine with its core focus on providing accurate diagnostic support and delivering the highest quality patient care.
HCG employs the multidisciplinary approach for the disease diagnosis and treatment wherein specialists from multiple disciplines come together to accurately evaluate the patient information, standardise the treatment approach and create efficiencies that will eventually lead to effective disease management.
Quality of life is an important aspect of cancer care. At HCG, every personalised treatment plan that is devised gives equal importance to the preservation of quality of life throughout and after the treatment.
Along with unique treatment protocols, HCG employs cutting-edge technology and has skilled and experienced specialists at its disposal, all of which helps in providing adequate diagnostic and clinical care support to our patients.
Max Healthcare
 
Max Healthcare Institute Limited ("Max Healthcare") is one of India's largest healthcare organizations. We operate 17 healthcare facilities (3400+ beds) across the NCR Delhi, Haryana, Punjab, Uttarakhand and Maharashtra. Almost 85% of our bed capacity is in Metro/Tier 1 cities. Apart from hospitals, Max Healthcare also operates a homecare business and pathology business under brand names Max@Home and Max Labs respectively.  Max@Home offers health and wellness services at home while Max Lab provides Pathology Services outside our hospital network.
Max Healthcare is promoted and led by Abhay Soi as its Chairman and Managing director and co- promoted by KKR, the iconic Global Private equity fund.
The present amalgamated company was formed subsequent to the acquisition of 49.7% stake in erstwhile Max Healthcare Institute Limited by Radiant Life Care Pvt. Ltd. ( "Radiant") and the amalgamation of Max Healthcare with Radiant thereafter.  The amalgamated entity assumed the name Max Healthcare Institute limited.  Prior to the amalgamation, Radiant was led and promoted by Abhay S.
Max Healthcare is India's leading provider of world-class healthcare services, with 3000+ doctors and a network of 17 hospitals.